Burner/Tank Service
Unfortunately, oil tanks have a limited life span. Steel tanks will eventually rust until they begin to leak. Outside steel tanks have a lifespan of 10 to 15 years. Please check with your insurance company to confirm their specific coverage period for your tank.
New steel tanks are now made with a double bottom and include a leak indicator that will show if one of the bottom layers is compromised. Steel double bottom tanks have a lifespan of 15 to 20 years. A great alternative to steel tanks if the Fibreglass tank. These tanks will not rust and are recommended for outside installations near the ocean. Fibreglass tanks have a life expectancy of 20 to 30 years.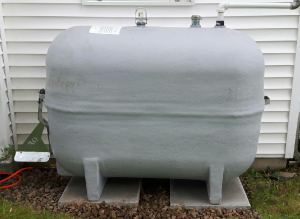 Savage Oil is certified and fully insured to install oil tanks. Existing or new heating oil customers may qualify for a 6 month payment plan on new tank installations. Call 1-877-372-8243 or email sales@savageoil.ca for a free quote.
You should first contact your insurance company to determine which type of tank is best for you.
For more information on fuel storage tanks see https://novascotia.ca/nse/petroleum/docs/OilTankGuide.pdf.
Burner Service
A properly serviced burner system will save you money over the course of a year and will significantly reduce the risk of malfunctions during the cold winter months. We recommend servicing your equipment once a year for best performance.
Need a burner technician? Savage Oil is pleased to recommend one of the following technicians to serve you.
John Walker Heating Services
1065 Hall Road
Aylesford
NS  B0P 1C0
902-848-6841
Middleton – Windsor – New Ross
Rogers (John) Heating & Ventilation
15 Woodland Dr
Digby
NS  B-V 1A0
902-245-4194
902-247-0239
Caledonia – Annapolis to Salmon River
Ryno's Ltd
250 North Street
Bridgewater
NS  B4V 2V6
902-543-4737
Toll Free: 1-800-595-4737
service@rhynosltd.com
South Shore
Merit Heating
13604 Hwy1
Middleton
NS  B0S 1P0
902-825-4328
Berwick-Annapolis